1 – THE HOUSE CAFE, ORTAKÖY
The Housé Cafe Ortakoy, opened in 2005 right next to Ortaköy Pier, is a very elegant restaurant with its entrance area, two large terraces and hall. The House Cafe stands out with its food and service quality among the breakfast places in Ortaköy. When compared with other House Cafe branches, it makes a difference in terms of location and view. The House Cafe Ortakoy, where you can enjoy a Turkish breakfast with a unique Bosphorus view both on weekdays or on weekends has breakfast varieties are offered as a la carte, which is optional from the menu.
THE HOUSE CAFE ORTAKÖY
Yıldız Mah. Salhane Sok. No:1, 34349 Ortaköy/İstanbul, Türkiye
0 (212) 2272699
2 – ORTAKOY FERIYE PALACE
Feriye Palace, with its seafront location, magnificent view overlooking the Bosphorus Bridge, Ortaköy Mosque and Maiden's Tower, offers a unique ambiance both in summer and in winter for those who want to enjoy breakfast at the Bosphorus. All the flavors at Feriye Palace bear the signature of Aydın Demir, who was elected the world's best foreign chef in Lyon in 2012. There is a 10% discount for those who follow Gezentianne on Instagram.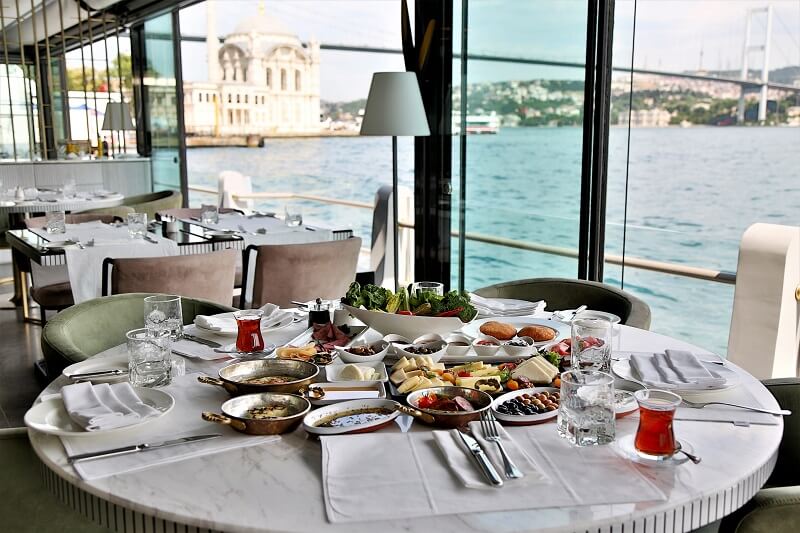 3 – BELTAŞ ORTAKÖY
Beltaş Kafe, which has the most magnificent location among the Ortakoy breakfast places, is located by the seaside between the Ortaköy Mosque and the Bosphorus Bridge. Grilled Halloumi, Grilled Spicy Sausage, Green Olives, Pastry With White Cheese, Pancake, Menemen (Scrambled egss with tomato and green pepper), Nutella, Honey, Clotted Cream, Jam, Butter, Sliced tomato and cucumber, 2 hot or cold drinks are served for two people for a total of 300 TL as of the end of 2022. This breakfast is served daily between 08:00 and 12:00.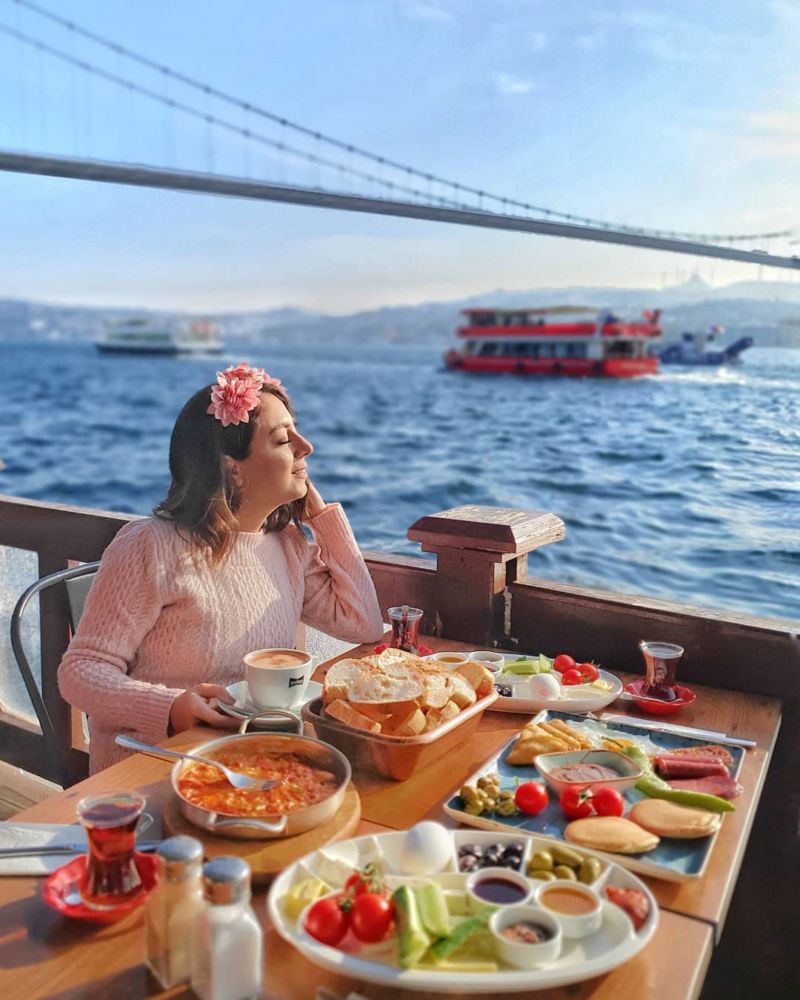 BELTAŞ ORTAKÖY
Ortaköy, Mecidiye Köprüsü Sk. No:1, 34347 Beşiktaş/İstanbul
0 (212) 259 07 32
4 – ORTAKOY MADO
After the first concept café opened in Istanbul Caddebostan in 1992, MADO has turned into a chain where ice cream, desserts and breakfasts are served at cafes opened in many cities all over the country. The Ortakoy branch of MADO is also popular for its view overlooking the Bosphorus Bridge. SINI Breakfast for two, including Maras cheese, feta cheese, cheddar cheese, cheese pastry, butter, adjika, honeycomb, tahini-molasses, cherry jam, green and black olives, tomatoes and cucumbers, seasonal fruits, dried figs, dried apricots, fried eggs and bread basket (simit, plain, whole wheat and olive bread) served with unlimited tea during breakfast costs 215 TL.
MADO ORTAKOY
Ortaköy Meydanı Beşiktaş /İstanbul
0 (212) 2591015
5 – AŞŞK CAFE, ORTAKOY
AŞŞK CAFE, which I can recommend for those who are looking for a decent and pleasant breakfast place on the Bosphorus in Ortaköy Kuruçeşme line is an answer for the question "Where to Have Breakfast in Kuruçeşme?". The cafe stands out with its HOME BREAKFAST varieties, which also feature distinctive flavors such as fried halloumi, acuka, sausage, herbed curd, homemade sour cherry, quince and cranberry jam, organic olive, olive oil, honey and clotted cream from Datça.
Breakfast varieties are served as à la carte in Aşşk Cafe. To give an example for 2 people, you can create a shared mini Turkish breakfast table for two with fried halloumi cheese (34 TL), Datça honey-clotted cream (36 TL), menemen (60 TL), soudjouk (44 TL). You can try more European options by choosing Scandict's Benedict with smoked salmon, poached eggs (114 TL), the other one with 7-grain bread, olive oil, dried tomato and cheese mixture (64 TL), served with tomatoes and greens.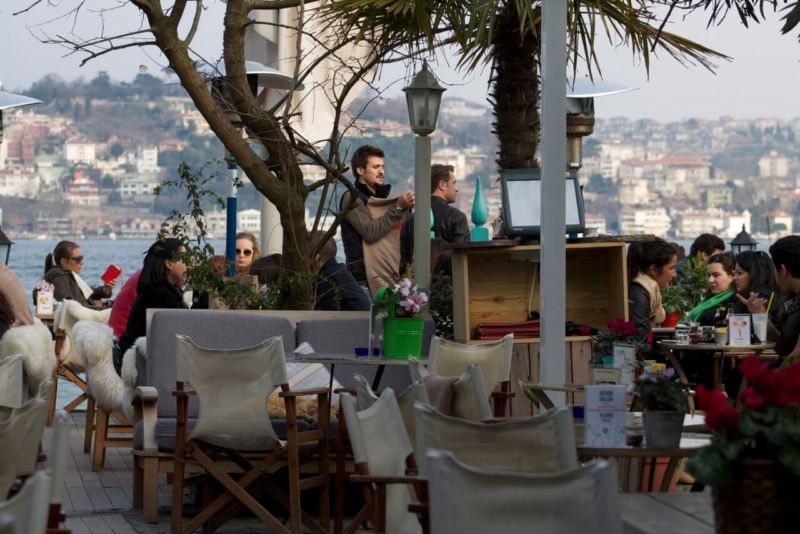 AŞŞK CAFE
Muallim Naci Cad. No:64/B Kuruçeşme, Beşiktaş, İstanbul
0 212 265 4734
6 – NILLY CAFE, KURUÇEŞME
Nilly Cafe is located at the edge of the Bosphorus, on the Ortaköy side of Kuruçeşme Park. The mixed breakfast fee for 2 people as in the photo, including unlimited tea, is 400 TL in total as of 2022. Orange juice, menemen, pancake are also charged. There is a 10% discount for those who follow Gezenti Anne on Instagram.
NILLY CAFE
Kuruçeşme Mahallesi, Muallim Naci Cd. No:74, 34345 İstanbul/Beşiktaş
0 (212) 265 50 20
DISCOVER ISTANBUL FROM THE SKY, EMAAR SKYVIEW ENTRANCE FEE