Chel-Ski is London's largest indoor ski centre offering the very best hi-tech slopes. A fun, safe and controlled environment where you can learn to ski or snowboard as well as advance existing skills. This is something that can benefit all skiers, from those who are still to try on ski boots for the first time to those training for the next Olympics!
We agree that the best skiing experience is when you make it out to the top of a mountain and you are ready to take to the real snow, but we also believe that preparing for your ski trip is the best way to make the most of your holiday. Chel-Ski's Urban Mountain offers the perfect place for you to ensure you stay 'ski ready' throughout the year and are ready to jump straight in when you make it back out to the snow. Here are our top reasons Chel-Ski is the perfect place for you to train:
1 – We cater to all abilities
Chel-Ski runs separate sessions for skiers and boarders and we always aim to match customers of a similar age and ability, so we can progress each session at the right pace.  So, for example, if you are a beginner skier, you will only be matched with other beginner skiers of a similar age to yourself. We provide ski lessons to anyone with additional needs of disability and are encouraging the opportunity for snow sports for all. Having worked with customers with a wide range of abilities, including visual impairments, autism, amputees, cystic fibrosis and those using sit-ski's, our instructors are ready to help find the best methods for each individual in order to improve technique and ultimately allow you to enjoy your ski lesson to the fullest.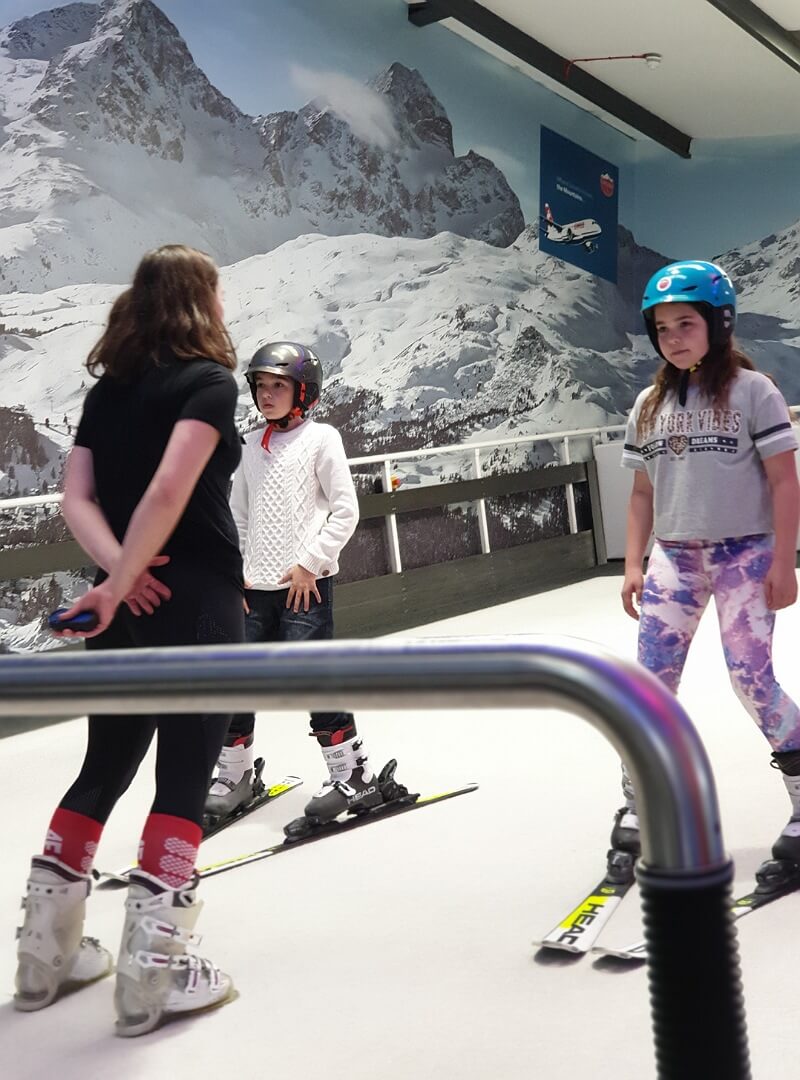 2 – It's perfect for building stamina and improving muscle memory.
Our specialised AstroTurf mats run continuously, on a large rotating platform, similar to the idea of a treadmill. This allows for our instructors to teach you in real time, while you ski. Eliminating the need for queues and ski lifts allows for constant skiing, and this increase in the time you spend skiing will allow you to build up your stamina. The consistency of skiing will in turn allow your body to retain these movements at a faster rate and help you to build on your muscle memory.
3 – Our specialised mat lets you concentrate on honing your skills.
Our slope can be adjusted in both speed and gradient to allow you to train at a level suitable to your skills. Our speed can go up to 40km/h, while our gradient ranges from 8 – 25 degrees meaning we can alter the slope to suit a very wide range of abilities.  The surface of our mat is specialised to allow you to replicate the same techniques, in both skiing and snowboarding, that you would use on snow, however, while snow is a much more forgiving surface, our mat demands accuracy. This means that you must learn the correct technique in order to master it on our slopes. It also offers a great tool for existing skiers to highlight any bad habits that they may have picks up from skiing or boarding on snow (whether you know you have them or not). Our instructors can them work to correct these habits and improve your technique before you return to the mountains. We estimate that it is up to 10 times quicker to learn on our mat due to a more demanding slope which quickly improving accuracy, combined with the fact that you will spend more time per hour travelling on your skis or board compared with training at a snow dome.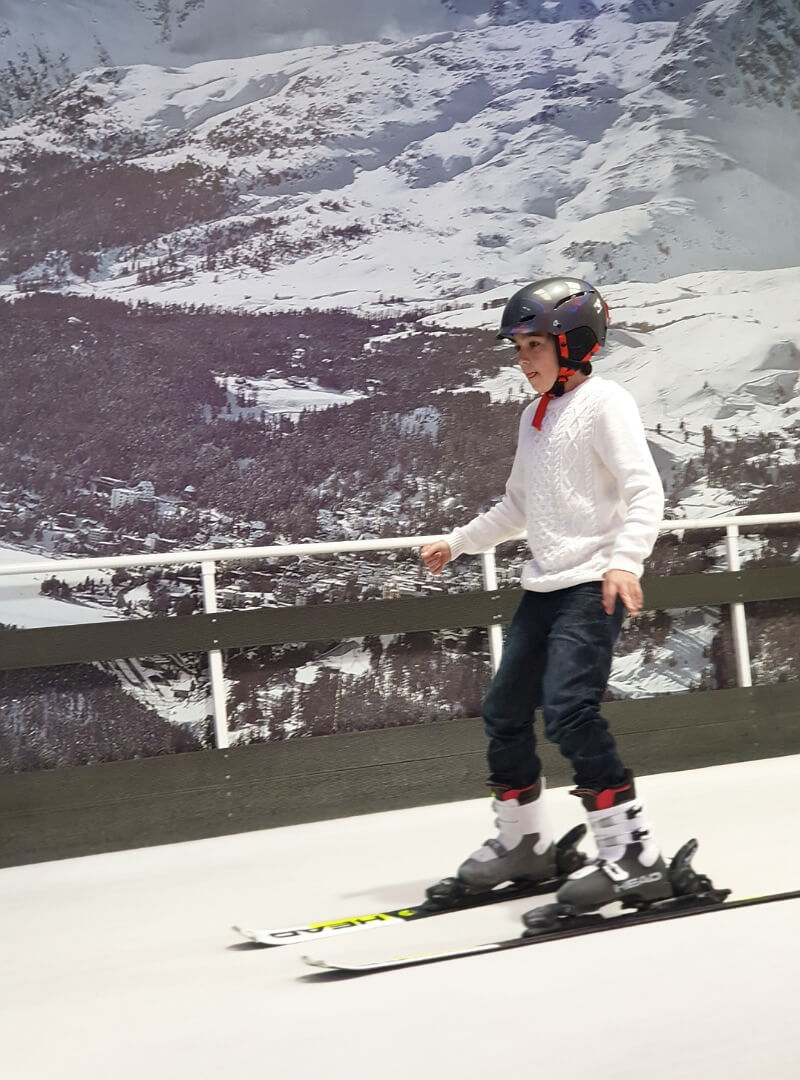 4 – Mirror image
At the front of each slope in Chel-Ski there is a large mirrored surface which allows you to see yourself reflected as you train. This is a ski factor in the increased rate of improvement as it allowed you to analyse your own technique as you ski. By being able to visually see your movements and reflect on your instructors' comments, we find that customers are able to put into practice their tuition in real time and improve at a faster rate. 
5 – Improve and progress in a personal way.
We value the need for a more personal training technique compared to the large group lessons found in more ski domes or training facilities. At Chel-Ski you can develop your technique under close 'personal' supervision. Our instructors look after just three customers (maximum) on each slope at any one time, so that they can assess how well you're doing and give feedback on areas for improvement. We also offer private tuition if you'd prefer a 1:1 lesson.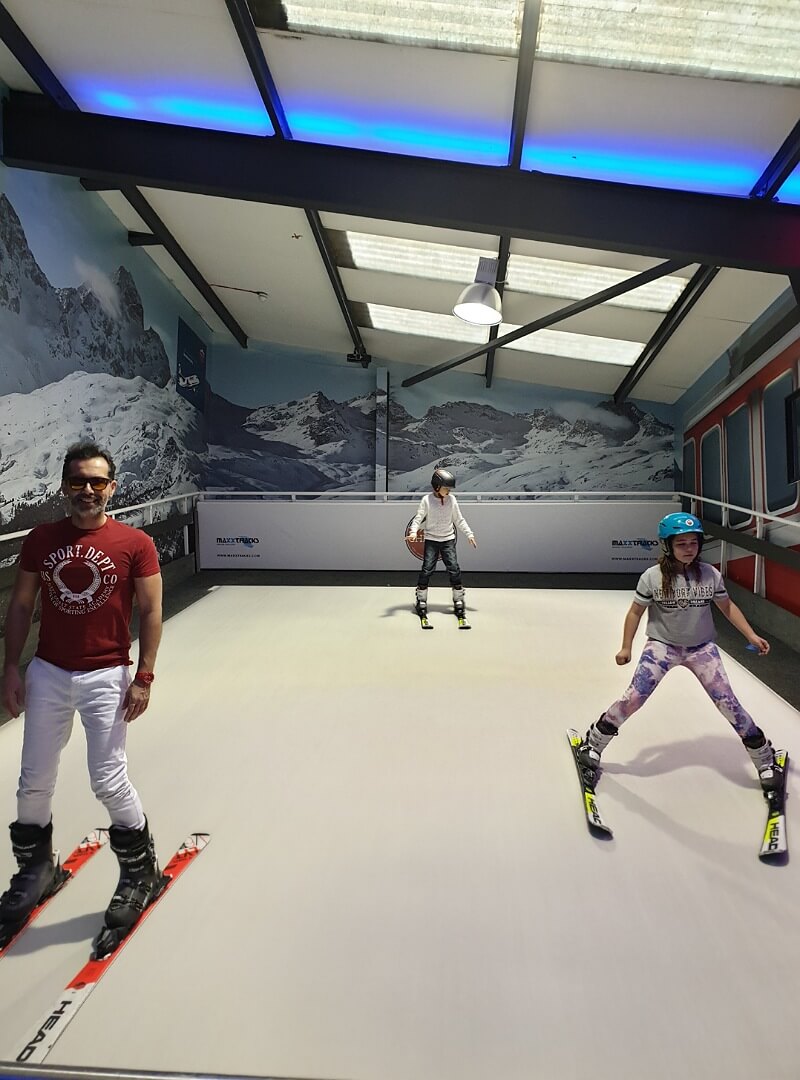 6 – It's a great way to improve your fitness as you burn a LOT of calories during each session – it's a lot more fun than a running machine
A big factor in being ski ready for your next trip is ensuring you have built up your fitness before you hit the slopes. Our ski lessons are a great way to ensure you are increasing your fitness while knowing you are focusing on the correct muscles. Another great way to get ready to hit the slopes, or to simply keep fit and healthy throughout the year is with our specialised Fit-Ski classwhich incorporates off slope, ski-focused exercise, with on slope fitness, on skis. Fit-Ski classes are only £20 for your first 2 sessions and is London's premium fitness class getting you Skifit!
Skiing typically uses different major muscle groups to any other cardiovascular activity. Doing ski related activity and exercise pre and during your holiday and trips can improve your performance and reduce your chance of injury significantly. It is widely thought that preparation should occur at least 10-12 weeks prior to ski trips building in intensity and duration prior to your trip.
So, what can you expect from the Chel-Ski experience? 
Friendly staff, great facilities, attentive and fully qualified instructors giving high quality tuition and feedback, a variety of challenges on the slopes, visible improvement in your technique, increased confidence, an intense workout and a lot of fun!
Website:
Bookings can be made online or by calling us on 020 3829 6961